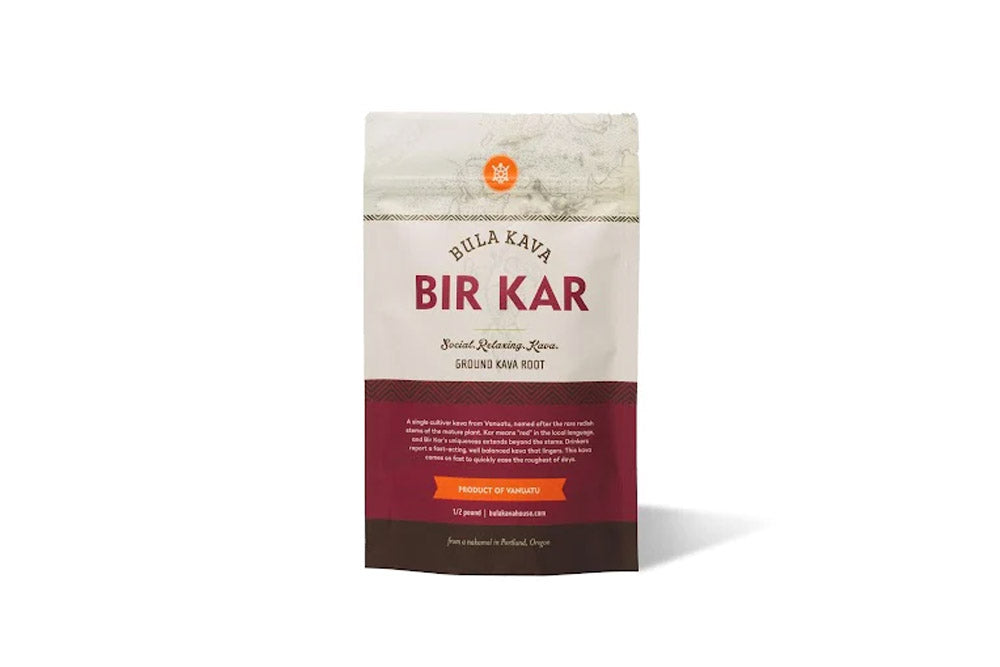 As you may know, Judd, owner of Bula Kava House, searches high and low for the highest quality and most unique kavas that the South Pacific and Polynesia has to offer, all with you, our customer, in mind. Today, we're excited to announce the Bula Kava House debut of Bir Kar – a very rare kava from Espiritu Santo, the largest island in the nation of Vanuatu, the ancestral home of kava and kava drinking.
What is Bir Kar?
A noble single-origin cultivar (or strain) grown in Vanuatu's fertile soils, Bir Kar is also known as "red" kava because of the unique reddish-brown hues of its stems. (The word "kar" means red.) A difficult plant to cultivate, Bir Kar is currently only known to grow on Espiritu Santo. This – coupled with the fact that it's very popular in Vanuatu nakamals (kava bars) and traditional ceremonies with only a limited supply leaving the island – makes Bir Kar one of the rarest and most desirable kavas in the world.
In fact, Ni-Vanuatu farmer Nickson Tosu, who was interviewed for this blog in 2021 by Bula's own Judd Rench, names Bir Kar as his favorite kava to drink! To read the full interview, go here: https://blog.bulakavahouse.com/2021/08/30/kava-farmer-interview/
Bir Kar Tasting Notes & Effects
A deep brown powder, Bir Kar is a thicker beverage with an aroma of pine and nut butter. It's smooth and creamy going down, with a slight mouth-numbing effect. Its unique flavor is described as combining Vanuatuan kava's usual peppery bitterness with roasted peanut and dark chocolate notes.   
Along with being nicely balanced in flavor and aroma, Bir Kar is a fast acting and strong cultivar, resulting in a heady euphoria as well as a muscle melting effect that is warm and pleasant. You will feel immediate stress and anxiety relief along with uplifted spirits. Full effects usually last around two to three hours. Relaxation can increase during that period, with a lingering mellow lasting for the rest of the day.
Because of its potency and long-lasting muscle relaxation effects, Bir Kar is best to drink when you're not planning to go anywhere for a while. It is also perfect for social settings, with many kava drinkers describing an increase in chattiness and ease of conversation while enjoying it.
Order Your Bir Kar Today
We're so thrilled to bring this rare Vanuatu kava to our Portland, OR and Vancouver, WA kava bars. Can't make it into the Portland-Vancouver metro area? Good news – Bir Kar is available in our online store as well in sample, half pound, and one-pound bags.
While not as well-known as many of our kavas, we highly recommend that you give our Bir Kar a try, and we look forward to hearing what you have to say about it. Like all the kavas we sell, our Bir Kar undergoes a rigorous testing process to ensure its purity and that it is safe to enjoy. Supplies are very limited, so order while you still can!