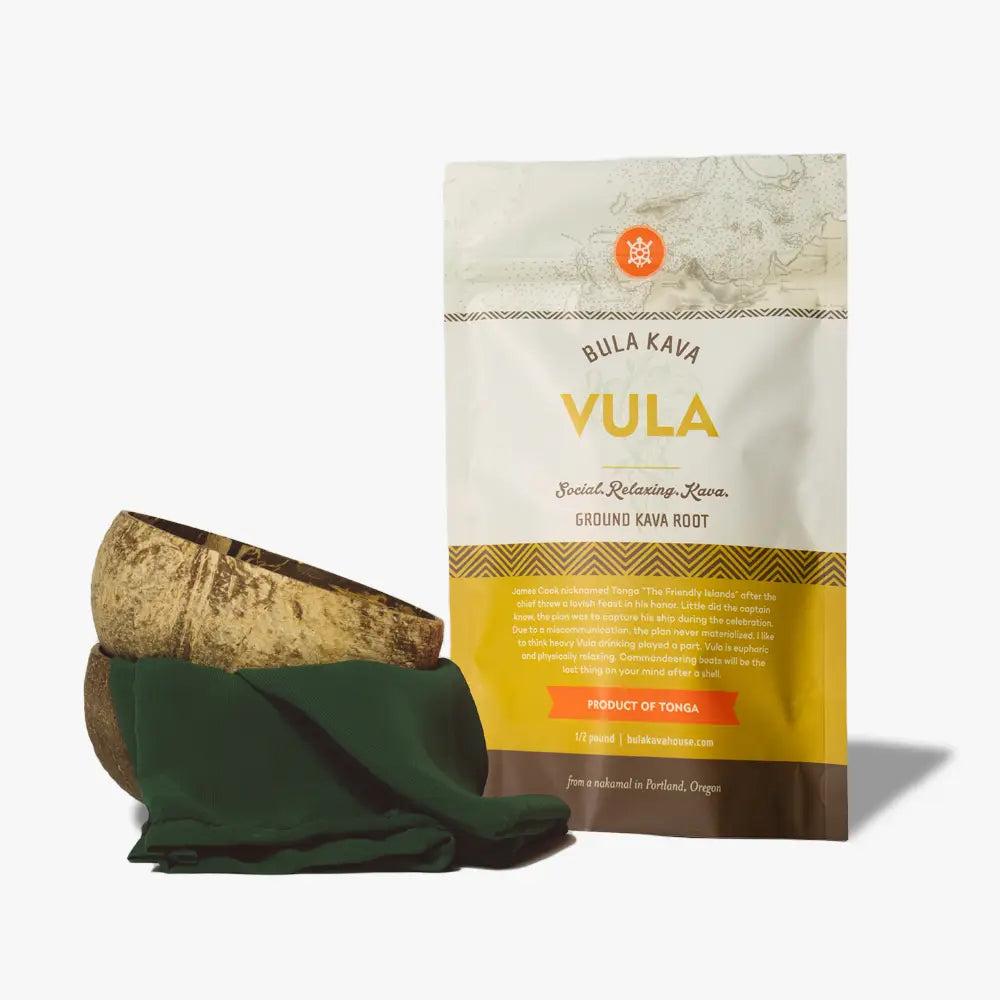 As autumn sweeps in with its cozy vibes, we're stoked to introduce you to a new star in the world of kava – Vula. Ground Vula kava is for sale now via Bula Kava House. You'll want to try this variety that hits that perfect balance of relaxation and euphoria. 
A Taste of Tonga
On the islands of Tonga, the tradition of kava traces its roots back to over 3000 years. Kava ceremonies have historically been a time and place where community members come together to strengthen bonds, discuss matters of importance and foster a sense of unity and peace. Plus the important stuff — chilling and hanging out.
The cultivation and preparation of kava have been refined to an art form, with specific varieties of the plant being favored for their distinct qualities and effects. Today, as you enjoy a cup of Vula, you're experiencing historical care for the plant and culture that's flourished in the heart of the Pacific for generations.
Euphoria + Calm
What sets Vula Kava apart? Its ability to strike a balance between euphoria and physical relaxation. Some people feel a soothing wave of tranquility wash over them, easing away the stresses of the day. 
Of course, the effects of kava are personal. You'll have to try Vula for yourself.
Vula Kava Recipe for Fall
We all have someone in our lives who gets really excited for a certain gourd-themed drink to come back in season every year in September. If you're a pumpkin spice person, or you just want to mix things up with your kava, try this recipe with our ground Vula. 
Vula Pumpkin Spice Kava
Ingredients:
1 decaf pumpkin spice chai tea bag 

Creamer of choice

1 serving Vula kava

Sprinkle of pumpkin spice, nutmeg and cinnamon

Cinnamon stick (Optional)
Instructions:
Let the decaf tea brew for the desired amount of time. 

While your tea brews, prepare kava according to directions.

Add kava to tea.

Pour in creamer to taste.

Sprinkle the top of each beverage with additional pumpkin spice, nutmeg and cinnamon according to your personal taste. 

Optionally, add a cinnamon stick as a stirrer.
Enjoy your drink and your experience.
Try Vula at Bula Kava House
If you're near Portland, Oregon or Vancouver, Washington, we invite you to visit one of our kava bars for your first sip of relaxing Vula. Our skilled kavatenders will serve you and your friends a shell of Vula in a cozy setting. Experience the warmth, calmness and camaraderie that our customers create together.
If you're not in the area, we hope you stop in on your next visit. We work hard to source the best kava from the South Pacific, and not every kava bar will have the same products. Luckily, you can create your own Vula experience at home.
Where to Buy Kava Online
Our ground Vula is now available for purchase online via Bula Kava House. Explore our selection of Noble kavas, and discover the joy of Vula. Elevate your fall vibes with a touch of Tongan tradition and tranquility. You'll be so glad you did.